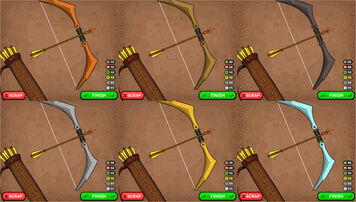 The second kind of Bow acquired in Alpine Ridge is the Wing Bow. The Wing Bow has a wing-like design, clearly saying that this bow will have a Wind boost.
Elemental Boosts
The Wing Bow has the following elemental boosts:
Stone (11 Stone Damage)
Wind (11 Wind Damage)
Lightning (12 Lightning Damage)
Luck (10 Extra Luck)
Epic Wing Bows
In Jacksmith, there are five Epic Wing Bows. The Epic Wing Bows are:
The Bow of Spades
The Stormstrung
The Quarryquiver
The Magician's Bow
The Lucky Bow
Ad blocker interference detected!
Wikia is a free-to-use site that makes money from advertising. We have a modified experience for viewers using ad blockers

Wikia is not accessible if you've made further modifications. Remove the custom ad blocker rule(s) and the page will load as expected.