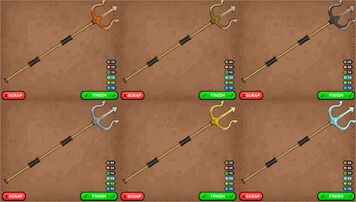 The Trident is the second type of pike in Jacksmith. It is not a hard pike to hammer, however, one is given 9 hammer swings to hammer it. The Trident is acquired in Boneyard Dunes.
Elemental Boosts
The Trident has the following elemental boosts:
Water (12 Water Damage)
Ice (13 Ice Damage)
Plant (13 Plant Damage)
Luck (10 Extra Luck)
Epic Tridents
There are five Epic Tridents in Jacksmith. These Tridents are:
The Windspire
Poseidon's Pike
The Stonespear
The Stoutspear
The Lucky Pike
Ad blocker interference detected!
Wikia is a free-to-use site that makes money from advertising. We have a modified experience for viewers using ad blockers

Wikia is not accessible if you've made further modifications. Remove the custom ad blocker rule(s) and the page will load as expected.