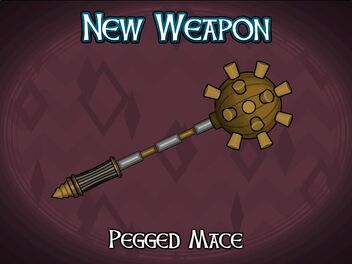 The first mace acquired in Alpine Ridge is the Pegged Mace. The Pegged Mace has a design (guidelines on the mace head, hard to see in the iron ore) which apparently should ease construction. Like all maces, it requires 12 ores.
Elemental Boosts
The Pegged Mace has the following elemental boosts:
Epic Pegged Maces
There are five Epic Pegged Maces in Jacksmith. Those five maces are:
The Windwailer
The Luckbeater
The Healthhammer
The Scorcher
The Earthcrusher
Surprisingly, one of the Epic Pegged Maces, the Luckbeater, is made out of copper. Do not expect it to last long, since the Pegged Mace does not get the Durability boost for the maces.
Trivia
Interestingly, the Pegged Mace has a 12 Extra Luck boost, which 2 more than the normal Luck boost of 10.
Ad blocker interference detected!
Wikia is a free-to-use site that makes money from advertising. We have a modified experience for viewers using ad blockers

Wikia is not accessible if you've made further modifications. Remove the custom ad blocker rule(s) and the page will load as expected.