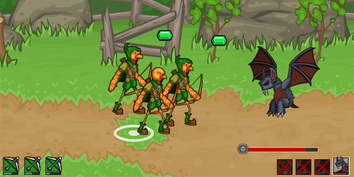 Day 2 in the Lowlands is the day where the player is introduced to Bows. A short day, with four trail enemies.
New Item
On Day 2, the player acquires the Simple Bow, the first and basic bow.
Possible Warriors
These are some of the possible warriors the player may see:
Combination 1: Cluckshire Archer x3
Combination 2: Cluckshire Archer x2, Swordsman
Combination 3: Cluckshire Archer, Swordsman x2
Enemies
The following enemies are present on Day 2:
Epic Weapon
The Charmblade is the Epic Weapon that is acquired by the player on Day 2.
Ores
The player is introduced to gold.
See also
Ad blocker interference detected!
Wikia is a free-to-use site that makes money from advertising. We have a modified experience for viewers using ad blockers

Wikia is not accessible if you've made further modifications. Remove the custom ad blocker rule(s) and the page will load as expected.