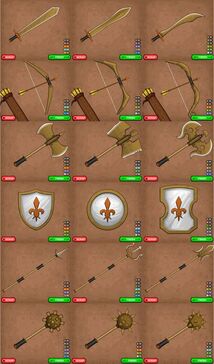 Bronze is the second type of ore in Jacksmith. It is acquired in the Lowlands. Bronze has decent base stats, however it is one of the low tier ores.
Usefulness
The Bronze ore is useful only in these areas:
It is not useful upon reaching Alpine Ridge, but it is still useful if the player uses this ore with a Durability-boosted Weapon with Durability-boosted Parts.
Use of Bronze in Epic Weapons
Bronze is the typical ore to use when crafting Luck-boosted Epic Weapons or Plant-boosted Epic Weapons. Some Epic Weapons, such as the Stonesbane, defy that rule. These are all the Epic Weapons that use bronze:
Ad blocker interference detected!
Wikia is a free-to-use site that makes money from advertising. We have a modified experience for viewers using ad blockers

Wikia is not accessible if you've made further modifications. Remove the custom ad blocker rule(s) and the page will load as expected.