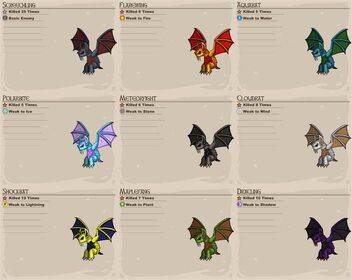 Bats are your first enemy to be encountered. One can call these chiropterans a bunch of annoying flying rats who screech annoyingly into donkey ears.
Screechling
These annoying bats are the first enemies you'll encounter as part of your tutorial.
Flarewing
Fire elemental bat. They will annoyingly flap hot air to you with their red wings.
Aquabat
Water elemental bat. These annoying buggers aren't exactly good swimmers but they can skim for fishes as prey.
Polarbite
Ice elemental bat. We're surprised that these annoying icy bats can still fly in the cold when it should've frozen their bones by now...
Meteorfight
Stone elemental bat. They have one annoying habit and that is called "aerial bombardment". Always wear a helmet and watch for their droppings!
Cloudrat
Wind elemental bat. The birds must feel annoyed by their presence... Do them a favour and take those buggers down!
Shockbat
Lightning elemental bat. And what have we learn from Pokemon? Annoying flying things don't like electricity.
Maplefang
Plant elemental bat. Nothing more than a bunch of annoying green bats.
Dracling
Shadow elemental bat. As if dealing with vampires isn't enough! These annoying bloodsuckers hunt their prey in a swarm at the dead of the night. Reports have been shown that victims have their blood completely sucked dry.
Ad blocker interference detected!
Wikia is a free-to-use site that makes money from advertising. We have a modified experience for viewers using ad blockers

Wikia is not accessible if you've made further modifications. Remove the custom ad blocker rule(s) and the page will load as expected.